Fingerless Gloves II
Knitting
See also Fingerless Gloves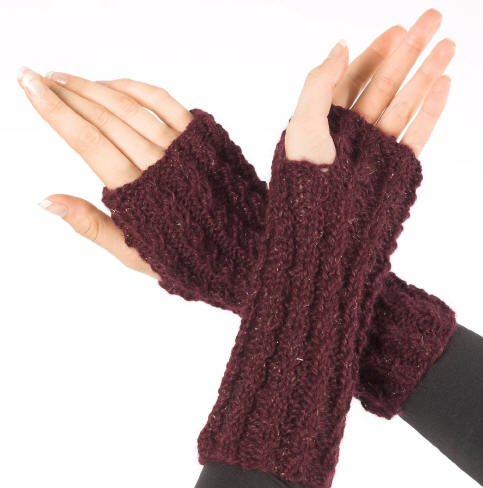 Materials:
Name

Gauge
10 cm
Aig.
Meters
Gramm
M
R
Plymouth yarn
Baby Alpaca Worsted
2- 50g balls
100% Alpaga
Worsted

20
--
5
187
100
Size:
Approx 8" x 8" long Knitting
Needles:
US 7 double pointed needles.
Gauge:
5 sts = 1" measured over st st.
Loosely cast on 40 sts.
Divide onto 3 needles, join, being careful not to twist the sts.
Work in k2-p2 twisted ribbing as follows:
Round 1-3: *(K2, p2); repeat from * around.
Round 4: *( Twist 2, p2);
repeat from * around.
Twist 2 = knit 2 sts together, then knit the 1st stitch again.
Repeat rounds 1-4 until total length is about 6", ending with a round 4.
Next round:
Bind off the first 6 sts in ribbing, continue around as established.
Next round: Cast on 6 sts over the bound off sts.
Continue in twisted ribbing around.
Work in twisted ribbing until total length is 9" or desired length.
Bind off loosely in ribbing.
Make a second glove to match.
Weave in all ends.