Sonde logique simple / Simple Logic Probe
Circuits Divers / Various Circuits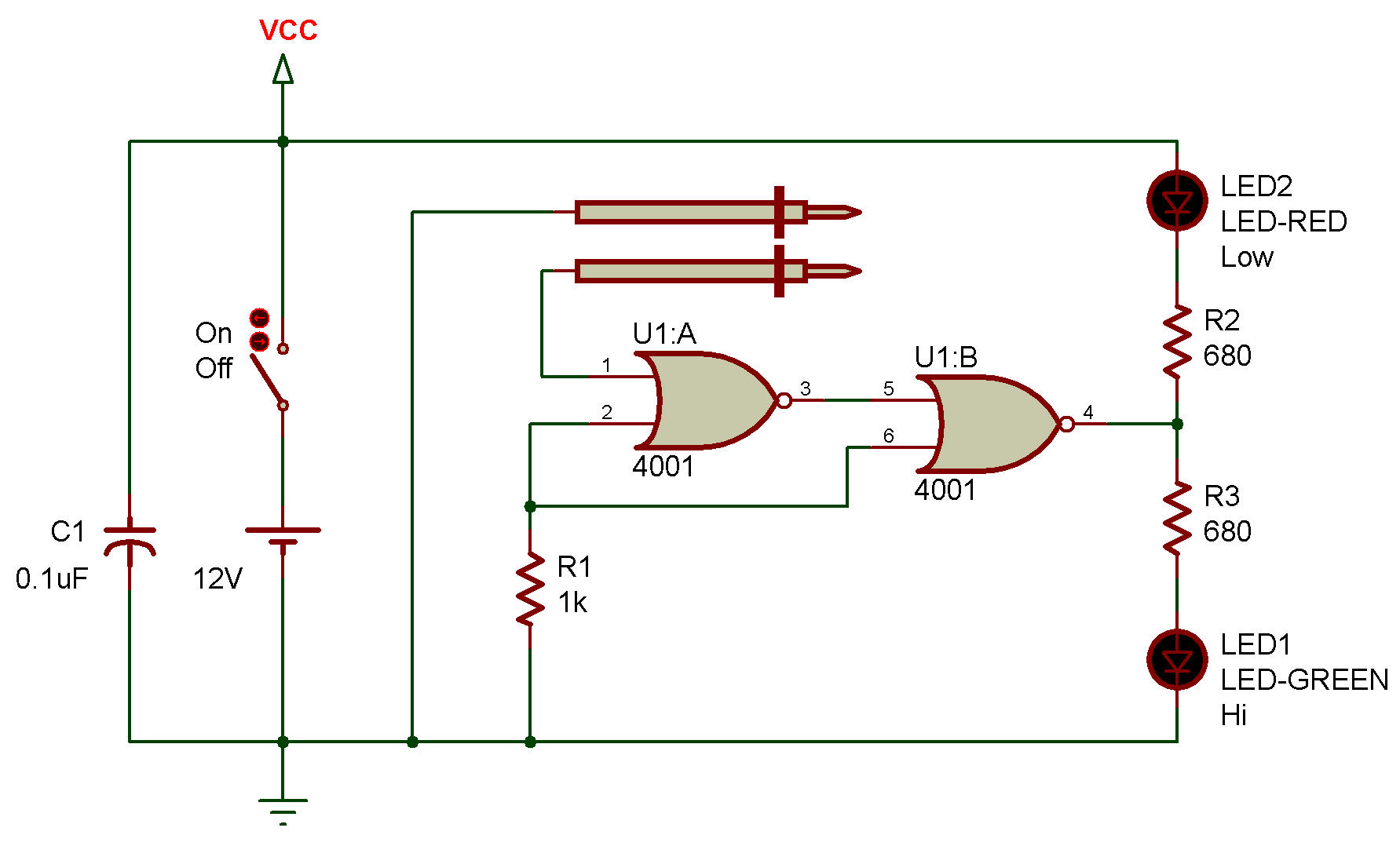 Cette sonde logique simple a les deux LED allumées sans signal à l'entrée mais, grâce aux portes non connectées à la sonde, elle indique correctement lorsqu'un signal haut ou bas est présent.

Cela fonctionne également correctement pour les sortes d'impulsions.

Normalement, les deux LED sont polarisées en direct et donc allumées, alimentées par l'alimentation 12 V.

Lorsqu'un niveau logique "haut" est présent au niveau de la sonde, la sortie de IC1a passe au niveau bas, envoyant la sortie de IC1b au niveau haut.

Cela éteint la LED1 mais polarise (et allume) la LED2.

À l'inverse, une logique « bas » au niveau de la sonde enverra IC1b au niveau bas, allumant LED1 et LED2 s'éteinte.
This simple logic probe has both LEDs on with no signal at the input but due to the nor gates connected to the probe, indicates correctly when a high or low signal is present.

It also works correctly for pulse trains.

Normally both LEDs are forward biased and therefore on, powered by the 12V supply.

When a logic "high" is present at the probe, IC1a's output goes low sending IC1b's output high.

This turns off LED1 but forward-biases (and turns on) LED2.

Conversely, a logic "low" at the probe will send IC1b low, turning LED1 on and LED2 off.