555 Sound effect generator
Électronique / Electronic (555)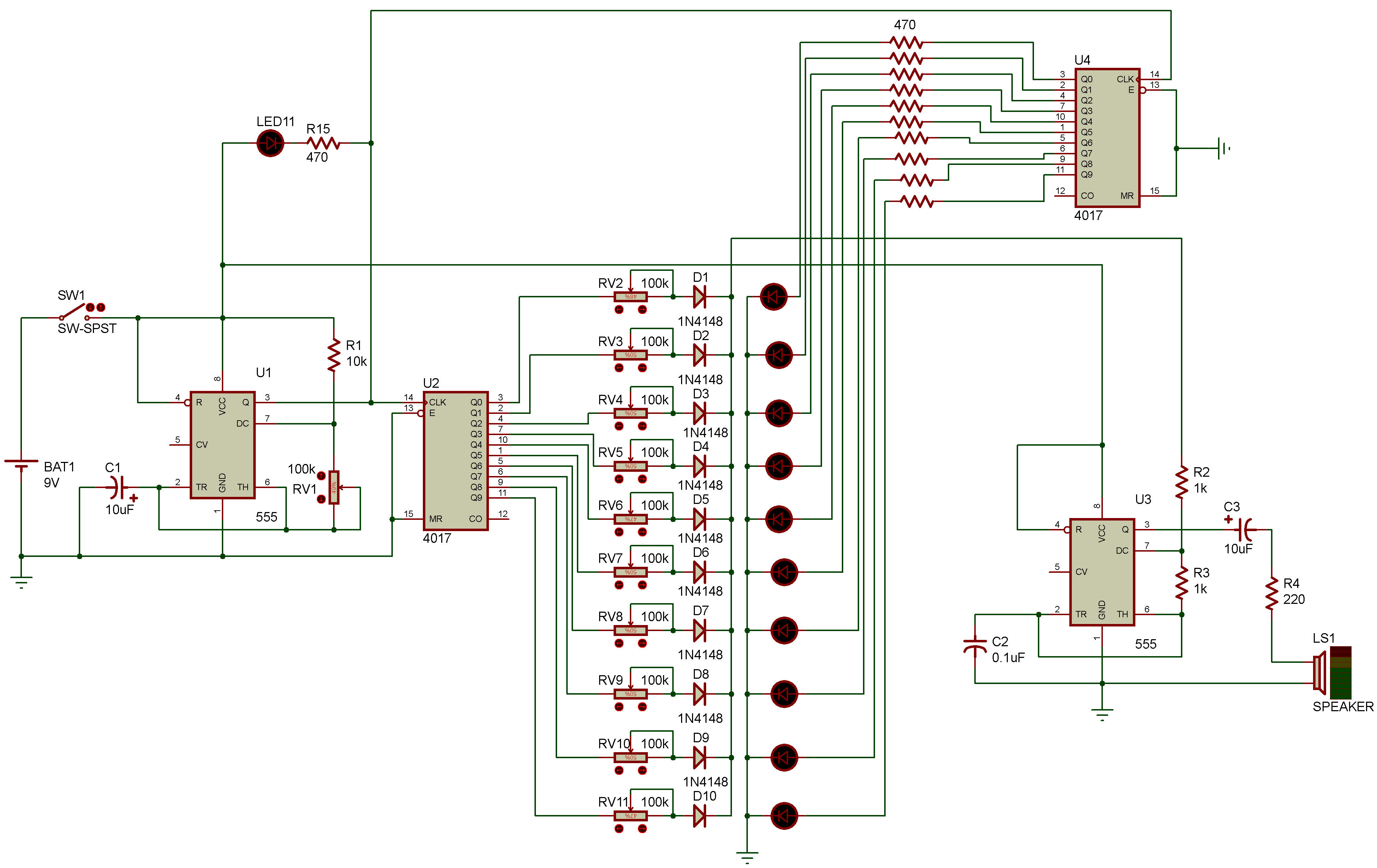 La figure est un circuit commun.

On le verra toujours lors de l'utilisation de chenillard de LED.

Nous utiliserons une minuterie IC-555 et un Compteur Décade/ Diviseur IC-4017 avec 10 sorties comme générateur d'effets sonores avec réglage de la musique de tonalité avec un tempo lent ou rapide comme vous le souhaitez en ajustant RV1.

Avec VR2-VR11 vous pouvez ajuster la tonalité en fonction des besoins de plus de 1000 tonalités.

Ce circuit peut être utilisé pour diverses alarmes.

Il utilise beaucoup de résistances variables ou de potentiomètres.

Mais c'est mieux que d'utiliser une résistance à valeur fixe puis de s'ennuyer à n'écouter que 2-3 fois.

Pour la valeur de RV2-RV11 n'utilisez pas plus de 100K.

Parce que si plus de 100K, IC3 générera une fréquence inférieure à 100 Hz, car on n'aimera pas la musique que nous écouterons.

La LED11 indique la vitesse du minuteur.

Les autres LEDs indiquent quel potentiomètre est actif.
Figure is a common circuit.

Which will see them always when use LED Chaser.

We will use an IC-555 timer and IC-4017 Decade Counter Divider with 10 Decoded as sound effect generator with adjusting tone music with a tempo slow – fast as you want it to RV1.

And VR1-VR10 to adjust the tone according to need more than 1000 tone.

This circuit can be used as various alarms.
We will see that use a lot of variable resistors or potentiometers.

But it's better than using a fixed value resistor then got bored listening to only 2-3 times.

The value of RV2-RV11 will use no more than 100K.

Because if more than this will cause IC3 to generate the frequency is lower than 100Hz which we will listen to don't like music.

LED11 indicates the speed of the timer.

The other LEDs indicate which potentiometer is active.
Bill Of Materials For 555 Sound effect generator

| | | |
| --- | --- | --- |
| Total Parts In Design | : | 57 |

15 Resistors
Quantity:
References
Value
1
R1
10k
2
R2, R3
1k
1
R4
220
11
R5-R15
470
3 Capacitors
Quantity:
References
Value
2
C1, C3
10uF
1
C2
0.1uF
4 Integrated Circuits
Quantity:
References
Value
2
U1, U3
555
2
U2, U4
4017
10 Diodes
Quantity:
References
Value
10
D1-D10
1N4148
25 Miscellaneous
Quantity:
References
Value
1
BAT1
9V
11
LED1-LED11
LED-GREEN
1
LS1
SPEAKER
11
RV1-RV11
100k
1
SW1
SW-SPST