Glands / Acorns
Tricot / Knitting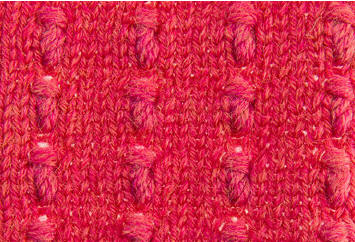 Français
Voici un motif amusant qui demande un peu de patience et de concentration, mais cela en vaut bien la peine.
Une fois que vous maitrisez la fabrication des petits "glands", vous pouvez les disperser à travers du motif que vous souhaitez.
Les instructions entre deux * * signifie: Répétez cette séquence
Monter un multiple de 5 mailles + 2 mailles
R1
À l'endroit
R2
À l'envers
R3
À l'endroit
R4
À l'envers
R5
2 end, *faire gland [insérer l'aig, droite dans la maille 4 rangs sous 3ième mailles de l'aig. gauche,
tirer une boucle, placer la boucle sur l'aig droite, 1 jeté sur l'aig droite] 3 fois, mais omettre la jeté
de la 3 rép, tric. à l'end les 3 long mailles plus la prochaine maille de l'aig. gauche ensemble torse,
passé ensemble les jeté sur l'aig droite pardessus la dernière maille tric., 4 end*
rép de * jsq fin
R6
À l'envers
Répéter les rangs 1 – 6
English
Here's a fun pattern that requires a bit of patience and concentration, but is well worth the effort.
Once you master making the little "acorns," you can disperse them across the fabric in the pattern as you wish.
Instructions between two * * means: Repeat this sequence
Cast on a multiple of 5 , + 2
R1
Knit
R2
Purl
R3
Knit
R4
Purl
R5
K2, *make acorn [insert right needle into the st 4 rows below the 3rd st on left needle, draw up a lp,
place lp onto left needle, yo on right needle] 3 times, but omit the yo in the 3rd rep, knit the 3 long
sts plus the next st on left needle tog tbl, pass both yarn overs on right needle over the last st
worked (making the acorn "cap"), k4*
rep from * to end
R6
Purl
Repeat Rows 1 – 6