Point mousse / Garter Stitch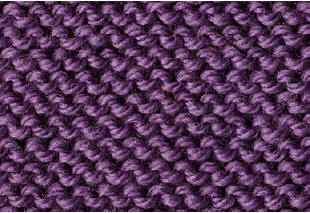 | | | |
| --- | --- | --- |
| | m. end. sur l'end.* m. env. sur l'env. | Knit RS, Purl WS |
| | m. env. sur l'end.* m. end. sur l'env. | Purl RS, Knit WS |

Le point mousse est le schéma de point le plus simple, et ce qui est génial, c'est qu'il est toujours parfaitement plat.

L'avant et l'endos sont identique.

Monter n'importe quel nombre de mailles.

Rang 1: Tricot à l'endroit.

Répéter le rang 1 pour le point mousse.

Garter stitch is the easiest stitch pattern, and what's great about it is that it always lies perfectly flat.

It looks exactly the same on both the front and the back.

Cast on any number of sts.

Row 1: Knit. Rep row 1 for garter stitch.