Checkered Hat
Knitting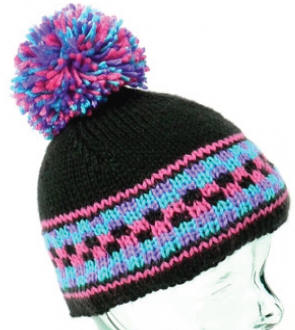 MEASUREMENTS
Finished Measurements
S Toddler
M Child
L Adult
MATERIALS
Name

Gauge
10 cm
4''
Needles
Meters
Gramm
M
R
Caron

Simply Soft Solids
100% Acrylique
Aran

18
--
5 mm
8 US
288
170
Sizes
Main Color (MC) Black (9727) 1 ball
Contrast A Watermelon (9604) 1 ball
Contrast B Blue Mint (9608) 1 ball
Contrast C Grape (9610) 1 ball
GAUGE
In Stockinette stitch, 18 sts and 24 rows = 4"/10 cm
INSTRUCTIONS
SPECIAL TECHNIQUES
Fair Isle (Stranded) Technique:
Carry color not in use loosely across WS of work.
NOTE
Hat is worked in-the-round; begin with circular needle, change to double pointed needles while shaping crown when there are too few sts to fit on circular needle.
HAT
Beginning at lower edge, using MC, cast on 72 (80, 88) sts.
Join, being careful not to twist sts;
place a marker (pm) for beginning of round.
Continuing with MC, knit 5 rounds, purl 1 round (turning round), knit 4 rounds.
Change to A knit 1 round.
Change to MC; knit 1 round.
Establish Pattern:
Begin working from chart, changing colors as indicated; work Rounds 1 – 12.
Change to MC on all sts; knit 1 round.
Change to A; knit 1 round.
Change to MC; knit 2 (4, 6) rounds, pm every 18 (20, 22) sts on last round.
Shape Crown Beginning this round, dec 4 sts evenly every other round 13 (15, 17) times as follows:
K2tog, [work to next marker, k2tog] 3 times, work to end—20 sts remain.
Knit 1 round even.
Decrease 10 sts evenly around by k2tog around—10 sts remain.
Cut yarn, leaving a 10" tail.
Using yarn needle and tail, thread tail through remaining sts; pull together to close top of Hat.
Fasten off securely; do NOT cut tail.
FINISHING
Using yarn needle, weave in all ends.
Facing:
Turn lower edge to WS along turning round; stitch neatly in place, being careful not to work too tightly.
Pompon:
Using Pompom Maker or piece of cardboard and A, B and C, make a large Pompon (see photo).
Attach Pompon to Crown of Hat using tail left from finishing Crown of Hat.
Trim ends, if desired.