Appalachian Shawl
Knitting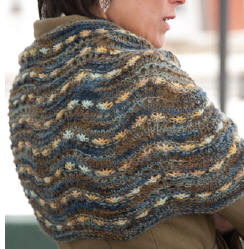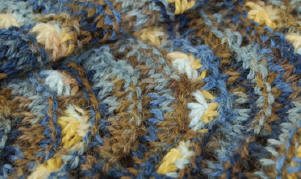 Abbreviations
BO: bind off
CO: cast on
cont: continue
k: knit
k2b:
knit into st 2 rows below the next st. Slide next st off LH needle
k2tog: knit 2 sts together (1 st decreased)
LH: left hand
p3tog: purl 3 sts together (2 sts decreased)
RH: right hand
rep: repeat
RS: right side
st(s): stitch
yo: yarn over
FINISHED MEASUREMENTS:
Approx 55" wide and 14" tall
YARN:
Name

Gauge
10 cm
Aig.
mm
Metres
Gramm
M
R
Classic Elite
Alpaca Sox
60% Alpaga
20% Mιrinos
20% Nylon
Fingering

32
--
2.25 - 3.25
411
100
NEEDLES AND OTHER MATERIALS
Circular knitting needles (32") in size US 8 and 10 (5 and 6 mm)
Stitch markers
GAUGE:
18 sts and 24 rows = 4" in Stripe Sequence patt with smaller needles, blocked.
Take time to save time, check your gauge.
PATTERN STITCHES:
Star cluster:
P3tog,
leaving 3 sts on LH needle,
yo,
purl same 3 sts together again,
slip all 3 sts off LH needle together.
Garter Stitch (Gtr St):
Knit all sts.
Feather and Fan Stitch (multiple of 18 sts, 4 rows):
Row 1: (RS) Knit.
Row 2: Purl
Row 3: *K2tog 3 times, [yo, k1] 6 times, k2tog 3 times, rep from *.
Row 4: Knit. Work rows 1–4 for Feather and Fan Stitch.
Framed Star Stitch (multiple of 4 sts, 4 rows):
Row 1: (RS) With CC, knit.
Row 2: With CC, *star cluster, p1, rep from *.
Row 3: *K2b, k3, rep from *.
Row 4: Knit.
Stripe Sequence (12 rows):
Rows 1–4: Feather and Fan Stitch
Rows 5–8: Framed Star Stitch
Rows 8–12: Feather and Fan Stitch
Repeat rows 1–12 for Stripe Sequence.
NOTES:
1. Circular needle used to accommodate large number of sts. Piece is worked back and forth in rows.
2. CC is used on rows 1-2 of Framed Star Stitch only, MC is used for all other rows.
3. Four edge sts of garter st are maintained on each side of piece. These sts are always worked in MC.
For Rows 1 and 2 of Framed Star st: slip the fi rst 4 sts to the RH needle and attach CC after fi rst marker (do not break off MC).
Work Row 1 of Framed Start Stitch to second marker and turn piece to begin Row 2, leaving the last 4 edge sts unworked.
Work Row 2 to second marker and break CC. Slip the last 4 edge sts onto RH needle and turn work. Cont Framed Star Stitch pattern with MC, working the first and last 4 sts of pc in Gtr St.
(There are 10 Rows of edge sts worked for every 12 Row Stripe Sequence repeat.)
SHAWL
With larger needles and MC, CO 224 sts.
Switch to smaller needles and knit 5 rows.
Setup Row:
(WS) Knit 4 sts, place marker (pm), k to last 4 sts, pm, k4.
The 4 edge sts on either side of piece are maintained in Gtr st for edge throughout and worked only in MC (see Note 3).
Beg Stripe Sequence:
(RS) Work 7 full Stripe Sequence repeats between markers.
Work Rows 1–8 of Stripe Sequence once more.
Knit 4 rows.
BO all sts knitwise.
FINISHING
Weave in ends.
Block piece to measurements.